Don't let your patients with carcinoid syndrome symptoms rely on rescue medication alone.
Once-monthly Somatuline Depot reduced the number of days patients needed to use rescue medication by almost one-third4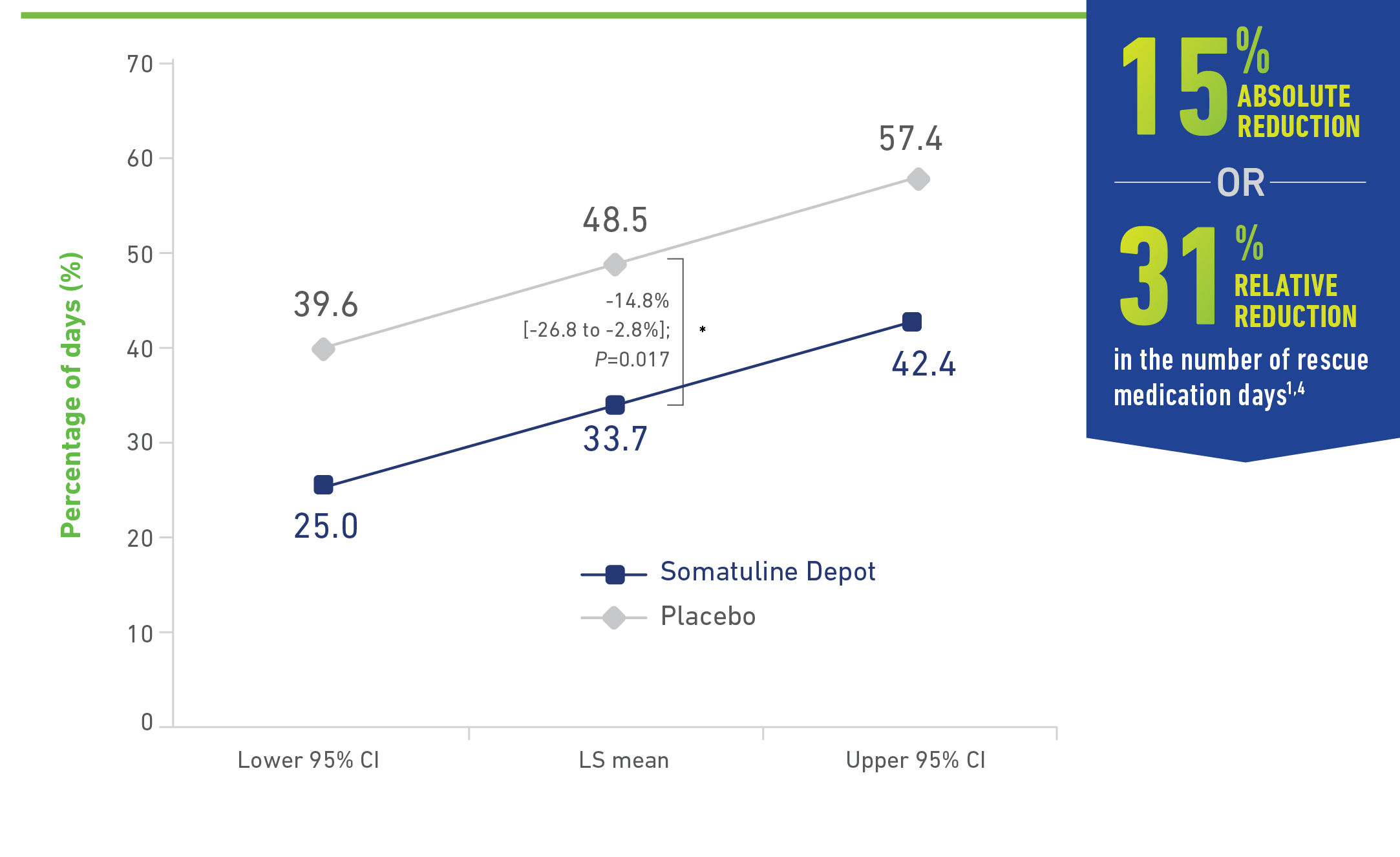 *Least squares (LS) (adjusted) mean (95% confidence interval [CI]) treatment difference = -14.8% (-26.8% to -2.8%); P=0.017.
The average daily frequencies of diarrhea and flushing events in patients treated with Somatuline Depot (and rescue medication) were numerically lower relative to patients treated with placebo (and rescue medication), but were not statistically significantly different via hierarchical testing.
Adverse Reactions
Adverse events occurring by Week 16 in ELECT in >=5% of Somatuline Depot-treated patients and occurring at least 5% more than in placebo-treated patients were headache (12% vs 5%), dizziness (7% vs 0%), and muscle spasm (5% vs 0%).
Please see ELECT trial study design and Patient Information below.
SEE SAFETY
Study design and patient information
ELECT*: A 16-week, randomized, placebo-controlled, double-blind phase III multicenter trial1

Patients were excluded if they had4:
— History of carcinoid syndrome refractory to treatment with conventional doses of SSA
— Treatment with interferon, chemotherapy, and/or peptide receptor radionuclide therapy, and/or tumor debulking <3 months before study entry
— History of hepatic arterial embolization, hepatic arterial chemoembolization, and/or selective internal radiation therapy <6 months before study entry
*ELECT=Evaluating Lanreotide Efficacy and safety as a Carcinoid-syndrome Treatment.4
†Administered every 28 days by deep subcutaneous injection, with access to short-acting octreotide as rescue medication.4
‡Analysis of variance and ANCOVA models were applied using Statistical Analysis System (SAS®) version 8 or higher.4