In adult patients with unresectable, well- or moderately-differentiated, locally advanced or metastatic GEP-NETs.1,3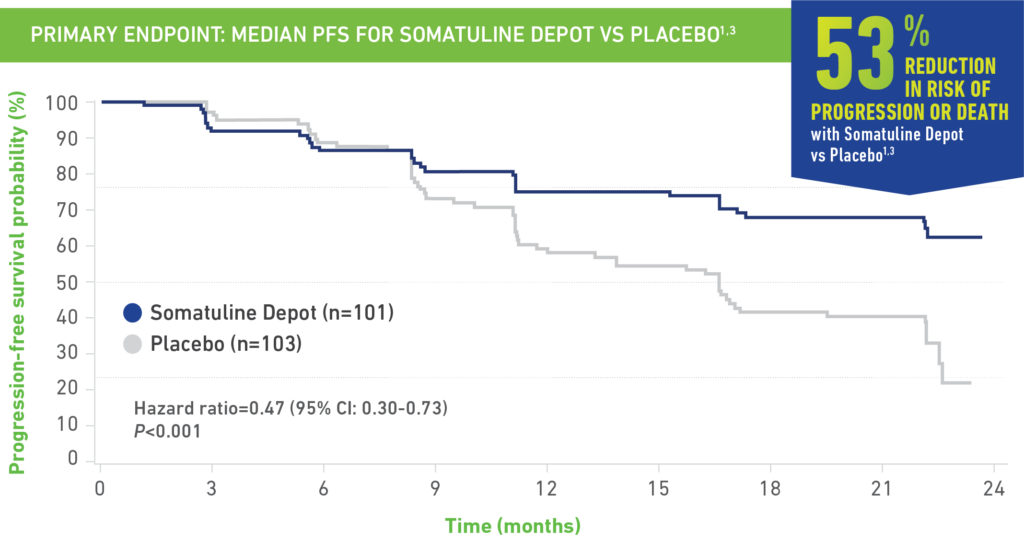 The Median PFS for Somatuline Depot was not yet reached at 22 months (95% CI NE, NE) compared with 16.6 months for placebo (95% CI: 11.2-22.1).1
Number of events (N=204): Somatuline Depot 32 (31.7%) vs placebo 60 (58.3%).1
CI=Confidence interval. NE=Not reached at 22 months.1
Adverse reactions reported in CLARINET study
Most common adverse reactions (greater than 10%) are abdominal pain, musculoskeletal pain, vomiting, headache, injection site reaction, hyperglycemia, hypertension, and cholelithiasis.1
Please see CLARINET study design and Patient Population Information below.
SEE SAFETY
Study design and patient population information
CLARINET*: A phase III, 96-week, randomized, double-blind, placebo-controlled, pivotal trial1
The majority (84%) of patients in CLARINET had not received prior pharmacologic therapy for GEP-NETs. Some patients (16%) received prior therapy.3
Patients were excluded if they received3:
— An SSA at any time, unless they received it >6 months prior to study entry and for <15 days
— Interferon, chemoembolization, or chemotherapy: <6 months prior to study entry
*CLARINET=Controlled Study of Lanreotide Antiproliferative Response In NeuroEndocrine Tumors.3
†Administered every 28 days by deep subcutaneous injection. Follow-up visits occurred at Weeks 12, 24, 36, 48, 72, 96.3
‡Assessed by a central independent radiological review in accordance with the Response Evaluation Criteria in Solid Tumors (RECIST) version 1.0.3
Disease characteristics
Progression-free survival in the ITT population3
CLARINET included patients with unresectable, well- to moderately-differentiated, locally advanced or metastatic GEP-NETs, a range of hepatic tumor loads, and varying primary tumor locations (foregut/pancreas, midgut, or hindgut).

Baseline prognostic characteristics were similar between arms with one exception:
There were 39% of patients in the Somatuline Depot arm and 27% of patients in the
placebo arm who had hepatic involvement by tumor of >25%1